Something fundamental has been missing from conventional company research, valuation and investment decision making
Company failures and material value loss occur on a regular basis yet approaches to identify root causes use ineffective and weak diagnostics
Traditional research may identify certain corporate exemplars but not why they are able to generate long-term differentiation and sustained value
We carry out company and sector research and have developed our proprietary, ground breaking Global OMI Human Capital index for those in the investment and corporate communities who are seeking long-term value creation. We also advise on corporate engagement with respect to effective Human Governance; a brand new discipline that finally makes whole, the way we examine, value and engage with companies to generate true, lasting value for all stakeholders.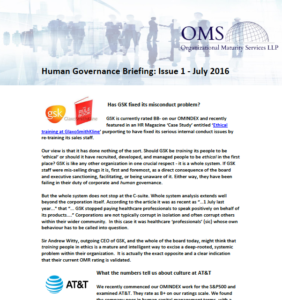 Human Governance analysis identifies additional value creation opportunities that are possible from the greater integration of human capital management into business strategy and operational planning. See our latest Human Governance Briefing for the latest examples arising across the business world.
Our approach captures a holistic, whole system view of the organization that identifies the nature and quantum of specific, material value opportunities and risk issues. It reveals whether Human Governance is coherently linked to business strategy and the extent to which competitive differentiation and superior returns are possible for investors.
Please look around our site to find out what we do and how we can be of value to you and your organization.
OMS LLP is a signatory of: