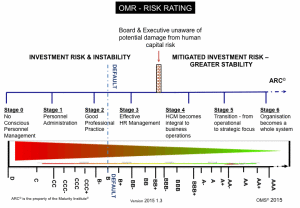 Organization Maturity Ratings (OMR©) analyze and quantify the extent to which an organization is maximizing its value, while controlling risk, with respect to human capital.
OMR©'s foundation is the Maturity Institute's ARC© methodology, which examines Maturity and the potential for value creation through ten core Pillars. The Ten Pillars are the foundation of globally recognized organization Maturity standards and the result of two decades of development with input from leading thinkers, researchers and business leaders. When combined these Ten Pillars present a complete picture of organizational maturity where human capital is fully integrated into a whole system.
OMR's for each company rated form our OMINDEX, our unique global index of comparative human governance and human capital management capability.
OMINDEX is both approved by the Maturity Institute  and our  proprietary OM30 PLUS questionnaire has been specifically developed to rate the S&P500 (and other global indices) in conjunction with Harvard Law School's Pension and Capital Stewardship Project
*OMS LLP is currently the only organizational maturity rating provider approved by MI