Is your company OMINDEX© rated?
OMINDEX© is the our global index of how well your company creates value and manages business risk with human capital
Confidentially benchmark your company against the OMINDEX© in just 2-3 hours
Self-Rate as we guide you through the OM30 PLUS questionnaire
See your Human Governance Scorecard indicating your value to shareholders, customers, employees and citizens
Get immediate insight into high value opportunities available and how you can develop an integrated business and people strategy
"I was fortunate to have been given the opportunity to attend a self-rating OMR session with Paul Kearns and Stuart Woollard of OMS LLP. It was packed with ideas, suggestions and improvements based on the premise of improving the results of an enterprise with a focus on human governance, social responsibility and the environment. These gentlemen are not dewy-eyed tree huggers. They have a sincere interest in corporate results." US Law Firm, August 2016
OMINDEX© is approved by the Maturity Institute. Our proprietary OM30 PLUS questionnaire is a sophisticated tool and is now being used to for detailed sector level analysis as well as rate the S&P500 in conjunction with a Harvard Law School Pension and Capital Ste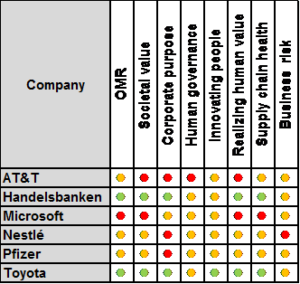 wardship research project.
OMINDEX© rating and our HG Scorecard gives you a quick and highly insightful picture of how you can deliver best value with all of your human capital
How much will an OMINDEX© rating and HG Scorecard cost?[1]
Online – we can deliver direct to you online, anywhere in the world, from £500
In-person – a rating can be conducted on your own premises from £750
To find out more about our OMINDEX© self-rating session please contact Paul Kearns at OMS LLP or call +44 (0)7974 79464
About OMINDEX© and OMR©
Organizational Maturity Ratings (OMR) analyse your whole organization as a complete system of value creation. OMINDEX has been designed in accordance with the strategic framework and business principles of the Maturity Institute for the specific purpose of assessing how well you leverage human capital to gain the most sustainable competitive advantage and highest market value. OMRs use the same rating scale as credit ratings, ranging from AAA to D with 22 gradations. The OMINDEX OMI Global  is a list of all the companies currently rated by OMS LLP.
©OMS LLP 2016
[1] OMR self-rating workshop fees reflect participants, size and scope of each session