OMS downgrades Nestle to BB+; cites strategic incoherence, sub-optimal value realization from human capital and high material risk arising from poor Human Governance
London, 9 February 2016: OMS LLP announced today that it has downgraded Nestle to BB+ on its OMR Human Governance rating scale. Paul Kearns, Senior Partner OMS LLP says:
"After initiating coverage in November 2015, we view that Nestle's initial rating of BBB- is no longer appropriate. The company has further exhibited strategic incoherence and has failed to recognize significant opportunities arising from the management of its human capital. For example, its so called "Shared Value" initiative is not causally linked to value creation and strongly indicates a shortfall between the rhetoric and reality of its human capital management and misalignment with business planning. It also continues to manifest significant risk from key areas of its business such as human rights issues within its supply chain"
A full OMS LLP research note for Nestle is available here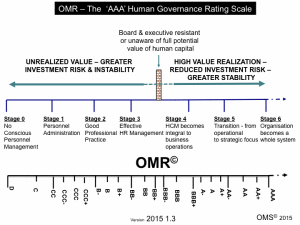 ENDS
For more information please contact stuart.woollard@omservices.org or +44 (0) 7940 585661
NOTES TO EDITORS
About OMS LLP
Management quality and capability has been missing from conventional company research, valuation and investment decision making. Company failures and material value loss occur on a regular basis yet approaches to identify root causes use ineffective and weak diagnostics. Traditional research may identify certain corporate exemplars but not why they are able to generate long-term differentiation and sustained value. OMS fills that gap. OMS LLP researches, rates and advises on effective Human Governance; a brand new discipline that finally makes whole, the way we examine, value and engage with companies to generate true, lasting value for all stakeholders.