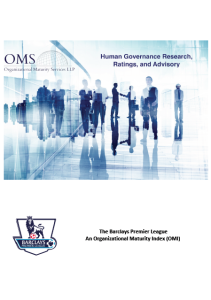 London, 21 January 2016: OMS LLP announced today that it is to establish an alternative league table for the football clubs in the English Premier League. Each club will be rated based on its leadership, management quality and capability for creating sustainable value; not only with respect to its players but from all human capital connected with the club.
Following on from its groundbreaking and highly successful Global OMI, covering FTSE100 and other global companies, OMS's 'Premier League' will take a wide range of factors into consideration to rate each club and link these ratings to league position and revenue generation but also operational effectiveness, social impact, fan satisfaction, brand and the reputation of the sport. The Premier League OMI will be released together with an in-depth report on 18 March 2016.
Stuart Woollard, Managing Partner OMS LLP says:
"Football clubs increasingly recognize that they must improve the management quality of their whole organization if they want to create sustained value, including team performance. Our ratings will provide a comparison of each club's ability to do this and help predict future success. Our ratings process also identifies key areas that can improve each club's value and mitigate the significant risks they carry with respect to their human capital."
ENDS
For more information please see TheBarclaysPremierLeagueprop  and contact stuart.woollard@omservices.org or +44 (0) 7940 585661
NOTES TO EDITORS
About OMS LLP
Management quality and capability has been missing from conventional company research, valuation and investment decision making. Company failures and material value loss occur on a regular basis yet approaches to identify root causes use ineffective and weak diagnostics. Traditional research may identify certain corporate exemplars but not why they are able to generate long-term differentiation and sustained value. OMS fills that gap. OMS LLP researches, rates and advises on effective Human Governance; a brand new discipline that finally makes whole, the way we examine, value and engage with companies to generate true, lasting value for all stakeholders.